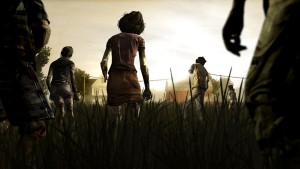 Après un premier épisode qui a rapidement connu un énorme succès (écoulé à plus d'1 million d'exemplaires), Telltale Games sort The Walking Dead le Jeu video – Episode 2
Il s'agit toujours d'un jeu point & click qui met en scène des personnages connus de la Bd The Walking Dead et de nouveaux.
A noter que l'épisode 2 du jeu video The Walking Dead, intitulé « Starved For Help » est disponible en téléchargement sur le Xbox Live Arcade, PSN, PC, mais qu'il n'est comme le premier, qu'en anglais non sous-titré. Voilà qui est bien dommage pour profiter pleinement du jeu quand on est pas anglophone. Il suffira de patienter pour la version PC pour pouvoir avoir des sous-titres VF réalisé par une équipe de passionnés.
Découvrez ci-dessous le Trailer de  The Walking Dead Le Jeu video – Episode 2 « Starved For Help » :